If it weren't for Katie, her sense of humor, and outstanding professionalism, I wouldn't have gone through with it. I almost didn't do it. I cancelled once, doubted myself, doubted Katie. I thought it would be a waste of money. I convinced myself I would hate it. I thought my husband would laugh at it. I'm too old for this. I felt dumb for even contemplating it.....the list goes on. I was NOT physically or emotionally comfortable walking in the door. I'm not exactly sure how Katie's "magic" works, but she had me laughing at myself in no time. I very quickly went from covering every inch of me to changing in front of her like we had known each other for years. Next time I would change my state of mind from the start. I forgot that I can be beautiful! My husband actually got a little emotional over his 8X8 black leather book. But honestly, this is the single best thing I have done for MYSELF in many years. If there is ONE take away from this whole experience, it is that I am still attractive. I have been married for 20 years and this experience has reminded me that I am the same person that I was 20 years ago. Thank you Katie. My husband REALLY thanks you!!! xoxo
I had absolutely no idea what to expect. I was excited, nervous, super body conscious. I am not a small girl. I had seen all these amazing boudoir shots by these beautiful, thin girls and never in a million years expected my photos to turn out that perfect. I've had body issues my entire life. I never thought I'd be good enough, even though I have accepted myself for who I am. I looked at myself in the mirror after having my hair and makeup done and didn't even recognize myself. I was gorgeous! I instantly felt a million times more confident and beautiful. I told myself, "I SO got this!" The photo shoot in itself was so fun and comfortable. Katie was cracking jokes, telling me how amazing I looked, and how awesome I was doing. I looked just as beautiful as those gorgeous thinner girls, and I just couldn't believe it. If you've been wondering about a photo shoot with Katie- don't hesitate. She is absolutely amazing. She made this rundown mom look hot! She's 110% got you. Katie is an absolute joy to work with. If you've been wondering about a photoshoot- don't hesitate! This is the confidence boost we all need!
This was one of the best and uplifting experiences! For someone who struggles with body image daily, Katie made it her mission to make me feel beautiful and remind me that letting loose is good for the soul! I have thought about doing a boudoir shoot for a long time but never been confident enough to make the plunge. After my husband surprised me with a session for my birthday/Valentine's Day, I knew I needed to go through with it. I was able to conquer my fear of self-image and bear more skin in pictures than ever before. I never felt judged or anything less than sexy during my shoot.
I think Katie did an amazing job with lighting and editing them to make them look great. If others were to see my photos, they wouldn't believe that I'm self conscious! I would like to do more in the future! Thank you for what you do. Empowering women and couples to capture their passions is awesome.
My first boudoir session with Katie Larrington Boudoir had me both excited and nervous. As soon as I walked into the elegant and gorgeous atmosphere of her studio all the anxiousness went away and were replaced with excited butterflies.
During my first shoot with Katie, not only did I meet an AMAZING photographer, but I also met someone who would soon be my best friend and my regular photographer. Katie is professional and fun, extremely talented and let's be honest… she makes you feel like a million bucks!! I was so excited to get my pictures back and when I did I fell in love. Not only are they elegant, but undeniably sexy. There is no doubt that her work is A+.
Katie, I cannot thank you enough for all the confidence and my new found love for myself that you have essentially given me through your encouraging words and your beautiful photography.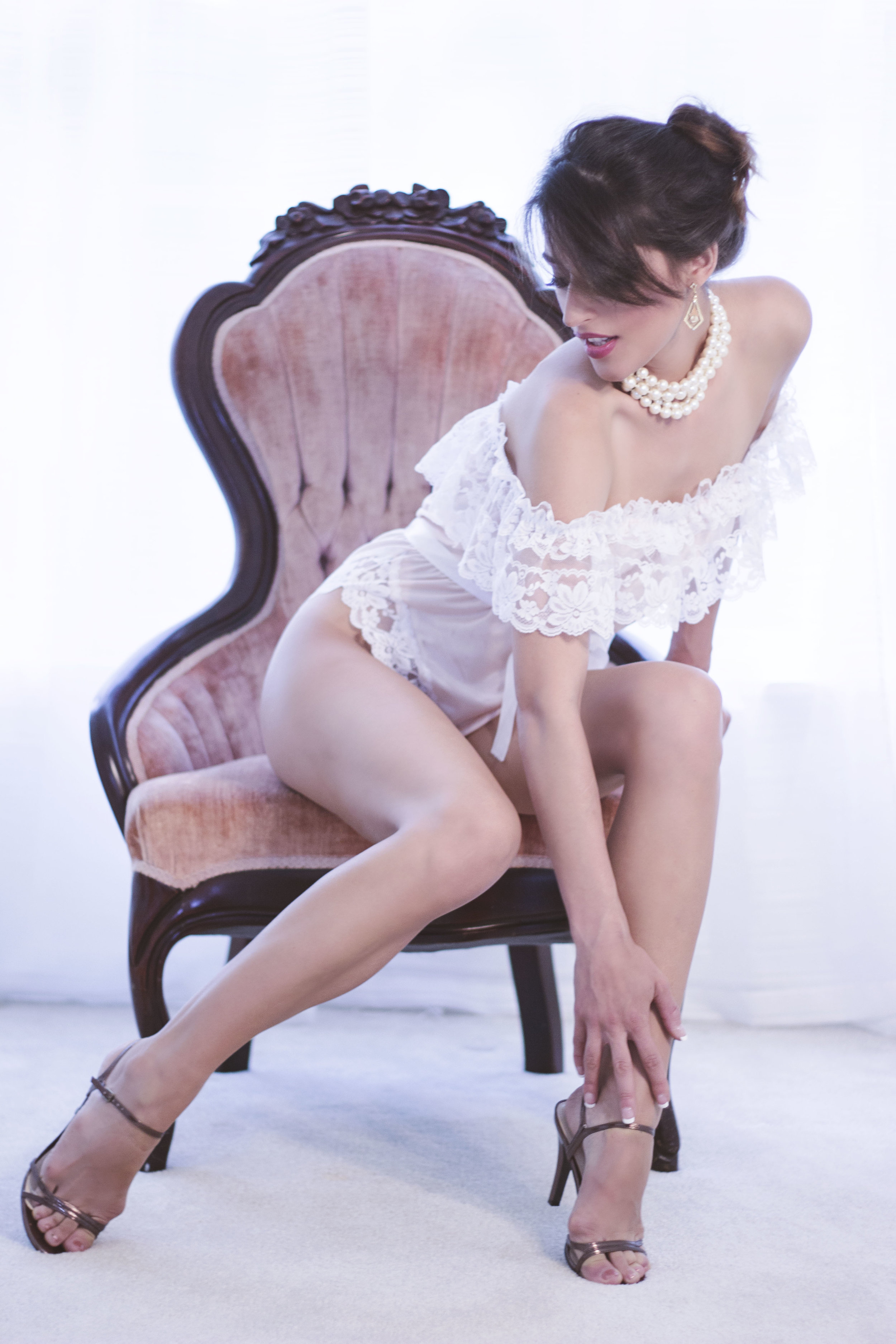 Every time I book a shoot with Katie Larrington Photography, I am astounded. Any butterflies or jitters about getting in front of the camera begin to melt away as soon as you walk into her gorgeous studio. Katie's warmth and polished, encouraging attitude will boost your confidence and make you feel like a real lingerie model.
Once you have received the finished product--oh my goodness! I have never made my own mouth drop before. I could not believe how elegant, beautiful, and sexy I was! From sultry and sensual, to flirty and foxy, Katie captures the many facets of the very best parts of my figure and my personality.
I can not thank Katie enough, not only for the amazing photos, but also for my new found level of self-worth.
Katie made me feel so beautiful even though I have more weight right now. She made me feel comfortable being in front of the camera and not worrying about how I viewed myself. I was so nervous but excited when I first stepped into the studio but I walked out with an extra confidence boost! I was elated to feel so sexy.
My first look at the images made me tear up because I didn't know that I could look so sexy and beautiful like that. They made me look freaking amazing! I am still in shock. Seeing myself in these pictures as well as getting them taken at the session made me feel like a completely different person. You CAN look sexy and beautiful! I have a new found love for embracing womanhood. My photo session was one of the best experiences I have ever had before! Katie made me feel safe, comfortable and sexy throughout the entire time. She is such a sweet lady and helps you with giving your best. You will NOT be disappointed
I've always wanted to do a boudoir session but lacked confidence. I kept saying, "lose 20 pounds, or wait until you're tan!!" I've always had an issue with what I see in the mirror. I've let hurtful comments play over and over until I believed them.
I kept thinking: will cellulite show, will my legs and arms look bigger, will my pooch be prominent. Will all my flaws look gross? NO!! Katie knows how to use lighting and angles to show off your assets! My confidence in myself was a 4/10. Once I arrived and met the glam team, my nerves disappeared. The transformation was outstanding! After the shoot, my confidence level was a 20. I was on a high all night long. When I saw my images, I couldn't believe that was ME in the photos. I can't stop looking at them, I'm in complete AWE! It literally made tears flow down my cheeks. All these years I have been seeing myself all wrong.
Investing in a boudoir session will empower you as a woman...I promise! If you have been holding back for any reason, let it all go and do this for yourself! It IS in you.
Katie puts you at ease from the moment you enter her studio. You instantly bond with her. She guides you the whole way and takes the worry out of posing. Book your appointment today...the photos will make a difference in your life!
Just perfect from start to finish. I can't say enough about how amazing Katie is. I would give her 10 stars if I could. She is a professional who focuses on the quality of her work and I can guarantee that you will love her when you get the chance to work with her! She made the experience so fun and absolutely memorable. I can't thank her enough for the beautiful images she took of me.
Katie is absolutely amazing!! She made me feel comfortable and now confident as well!! Her studios are gorgeous and she posed me to make me look my best. I was pretty nervous at first, but by the end, I felt like a rock star and much more confident and comfortable. I am super impressed and my husband is blown away! I feel much better and it has taken our 4 year relationship and 2 years of marriage to the next level! He can't stop looking at them and is seriously in love with them.
Katie, I can't thank you enough for the time you took to dress me, take these beautiful photos, and edit them! I am absolutely in love with every single one!!! You have such true, beautiful talent..and a personality to match!!! Thanks again, love!
It's all about YOU! You deserve it!
Stop getting in your own way!